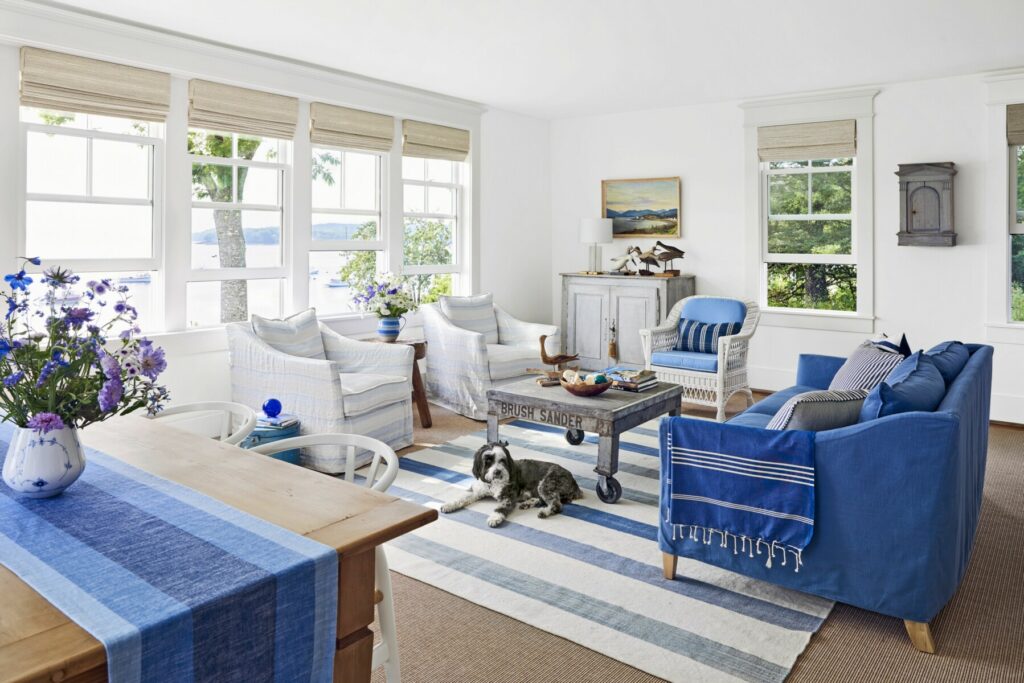 1. Replace the heavy draperies and linens with window coverings made of lighter, airier fabrics. Cellular blinds are very popular right now which allow the light in but keep the heat out. Have fun lightening and brightening. If you haven't already, swap out your flannel sheets for lighter sheets and comforters to help you stay cool and comfortable during those hot summer nights.
2. Potted flowers and plants will help to keep the humidity inside your home lower and help to improve your mood. If you suffer from allergies, decorating with artificial silk plants are life like, affordable and spirit lifting.
3. Nothing says summer quite like the beach! Add throw pillows, bed linens, area rugs or draperies ins shades of blue, white, turquoise, and beige to give your space a beachy vibe. Consult Pinterest for inspiration on additional beach themed decorations
4. If you're not a beach theme person, you can lighten and brighten with bright summer colors. Choose pillows and other accessories in vibrant reds, oranges, yellows, blues, and greens. Keep in mind that too many bold colors in one room can be overwhelming - limit your selection to one or two summer colors that complement your usual decor. Check out #dopamineddress or #dopaminedecor for additional inspiration.
5. Add in a few summer scenes or seascapes and swap them with your usual art pieces. Add a few personal touches with family beach candid's or vacations - adding a little personality to your home will complement your summer theme.
6. Do a balcony check. This bonus space offers the perfect place to extend your summer decorating theme. Add in a summer bistro set or luxurious lounge chair to turn your balcony into an inviting place to spend an evening or weekend afternoon. An outdoor rug and a few colorful, water-resistant throw pillows and cushions will help to tie your decorating theme together. Have fun and let us know your summer themes!